Buying a good drill is one of the best investments any diy-er can make. As with most power tools, it is usually best to spend a little bit extra to get a product that is both up to the majority of tasks and that will last for many years if looked after.
There are plenty of cheap 9v drills around, but we recommend that you go for a decent 18 volt drill, particularly if it will be the only drill you have. As we will show, you don't need to spend a fortune to get yourself a good quality, reliable cordless drill.
This list is in no particular order. All of the tools listed here are good enough to be the main drill for the majority of diy jobs. All Prices were correct at time of publication. 
Worx WX366 18v Hammer Drill/Driver 
Price: £69.99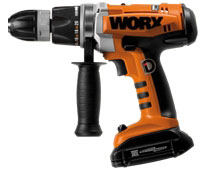 Worx may not be as well-known as many of the brands featured here, but they are producing some very good quality power tools at the moment, and at reasonable prices. The WX366 features a keyless chuck, 2-gear speed for high torque, a heavy-duty motor and a good quality Lithium battery. The drill also features a built-in LED light and comes with an adjustable front handle and a couple of double-ended driver bits. Another nice addition is the two spirit levels build into the body of the drill.
At 3kg, the Worx WX366 is just about the lightest drill here, as well as being the cheapest. Neither of those facts detract from the feeling of quality this drill displays.
DeWALT 18v Combi Drill 
Price:  £99.00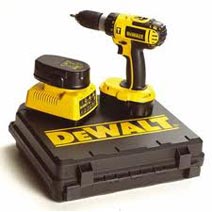 DeWALT have long been known for producing professional quality power tools for the domestic market. The 18volt Combi drill is no exception. At £99 it is right at the top of our £100 budget, but for that you get a high quality drill with a very useful second/spare battery.
As with most modern drills, the DeWALT features a keyless chuck and dual speed gearing, along with a hammer action setting. This drill feels reassuringly solid in your hand and the batteries seem to hold their charge very well. It doesn't come with some of the extras that other drills on this page have, but the second battery is a real plus.
Ryobi One Plus Li-ion Starter Kit
Price:  £99.98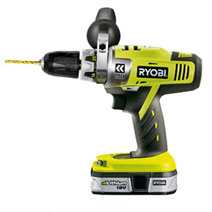 The Ryobi One Plus Starter kit includes the drill, battery, charger, additional handle, depth gauge and a strong carrying bag. The drill features an automatic spindle lock for easy one-handed bit changes, a useful clutch override system which lets you switch between drilling, driving and hammer modes easily, 24 torque settings and onboard bit storage.
The Ryobi One is quite heavy at 4kg, but it does feel solid in your hand. The battery is powerful and hold's its charge well, easily giving a full days use from a full charge. The safety cutout feature is a nice addition for a drill at this price.
Black & Decker 18v Hammer Drill (2 Batteries)
Price:  £79.98 – £99.98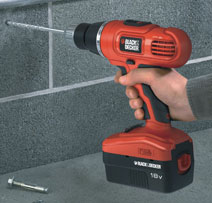 The EPC188BK-GB 18v cordless hammer drill from Black & Decker is ideal for most DIY tasks around the home. It has a powerful 18v motor for faster, more efficient drilling and a 24 position clutch for perfect screwdriving. As with the DeWALT, this drill comes with an additional battery which is very useful if you have a lot of drilling to do in a day.
At 2.5kg, the Black & Decker is fairly light, but doesn't feel quite as solid as some of the other drills mentioned here. The keyless chuck is also not quite as large as some drills in the same price range, meaning that your choice of bits is reduced. If you plan to do a lot of heavy-duty drilling, there are probably better drills for you, but if you want a light, compact, general-purpose drill with a spare battery, this one is hard to beat.
Bosch PSB 18v Li Combi Drill (2 Batteries)
Price:  From £72.00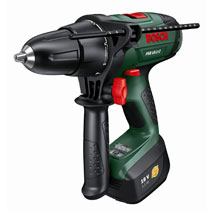 The Bosch PSB 18volt is a very good drill with some impressive features (not least the additional battery) for the money. The PSB comes with the usual accessories including a charger, additional front handle and a sturdy carry case, but it is the built-in features which make this drill so good.
The batteries use the Bosch electronic cell protection system to give a very long life, whilst the charger is capable of a full charge in just 60 minutes. The drill features a huge 30 torque settings, as well as hammer and driver settings. The keyless chuck holds the drill bit very securely whilst remaining easy to release when needed. The Bosch PSB 18v is a solid, reliable and reasonably light cordless drill.