The Dremel DSM20 is the latest tool in Dremel's outstanding line of Versatile Tool Systems. This ultimate compact saw has a powerful 710 watt motor and makes cuts up to 20mm deep in the most common DIY materials from wood to plastic, metal and tile. The Dremel DSM20 will make short work of any DIY, maintenance or repair projects with its excellent line of sight and abrasive cutting wheels helping to achieve precise cuts.
The Dremel DSM20 makes a beautifully clean cut compared with toothed wheels, thanks to its abrasive wheel technology. Extremely precise, it requires no lower guard mechanism – according to EN norms all tools equipped with tooth-bladed wheels require this, but not when using abrasive wheels.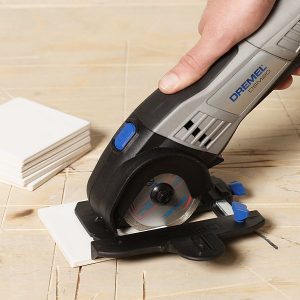 A very versatile tool, the Dremel DSM20 is capable of performing precise straight cuts, flush cuts close to the surface and plunge cuts with no kickback. In particular, its plunge cutting ability is second to none with the lack of teeth on the blades easily plunge cutting into different materials from wood to masonry.
It is easy to operate using just one hand for most cuts and its abrasive wheels allow for both push and pull action, whichever is more convenient. Additionally, it is extremely easy to change accessories using the shaft lock button. The 710W worm gear driven motor runs at 17,000 RPM, ensuring there is sufficient power for any task the DSM20 is required to perform, including tough applications. It also has a depth guide adjustment, making it possible to cut through most materials up to 20mm.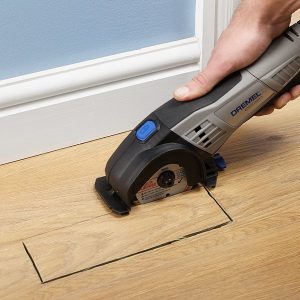 The tool is suitable for home improvements, installing cabinets, cutting drywall and wood, as well as a wide variety of repair and maintenance work, typically around the house. It will make short work of flooring, tiling and plumbing, kitchen and bathroom installation – and even when fitting new stairs.
The Dremel DSM20 comes with a range of accessories and attachments supplied as standard in the tool-kit:
* a 77mm Multi-Purpose Carbide Wheel, for soft and hard wood, plywood, composites, laminate flooring, drywall, PVC and plastic
* three 77mm Metal Cut-Off Wheels, for cutting copper pipe, coated wire shelving, metal, sheet aluminium and other materials
* a Vacuum Cleaner attachment to keep the workplace clean and line of sight clear
* a Straight Edge Guide, which aids in ripping materials up to 17cm wide
* a 2×4 Cutting Guide, which fits over 37mm x 86mm timber helping to double the DSM20's cutting depth
The kit also comes with a welcome DVD and a sturdy, spacious storage case.
The Dremel DSM20 will be available at B&Q priced £119.98.
For further info visit: http://www.dremel.co.uk