As the name suggests, the Einhell Multitool is a corded rotary multitool and comes with a kit containing 217 attachments aimed at the diy and hobby market. The kit contains the multitool, flexible extension shaft, an adjustable hook so you can hang it out of the way while you work and the storage case containing the 217 attachments. The attachments range from polishing discs to drills and engravers.
First Impressions
Opening the carry case and seeing those 217 attachments and tools is certainly an impressive sight, even if we were not totally sure what some of them were for. The multitool itself feels sturdy but comfortable in your hand thanks to the rubberised grip and everything, right down to the power switch, feels well put together. After plugging the multitool in and trying out the 5 speed settings, it is clear that this bit of kit does not lack power. Some of the smaller accessories are a little loose in their individual slots, but this is a very minor problem.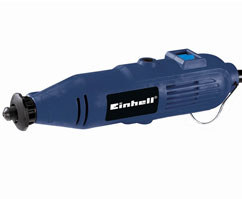 Tool Tests
Testing all of the many different attachments for the Multitool would take far too long, so we have decided to try out two different functions; Grinding/sharpening and cutting (ceramic tiles).
1. Sharpening Shears
This is a job that I have been needing to do for a long time. The garden shears in question are several years old and have certainly seen better days. The blades are quite rusty and there are several nicks and blunt spot on them. There are several different grinding attachments with the Einhell Multitool, but for this job, I found that the one with a flat edge worked best. The Multitool worked superbly and I was able to put a very sharp edge on the blades. I used the slowest speed setting for this and felt I had complete control throughout. So successful was this test, I am now planning to sharpen the blades on my old lawnmower and maybe even some old chisels I use for breaking out concrete.
2. Cutting Tiles
Switching to one of the flat circular cutting blades, I had a go at cutting shapes into ceramic tiles. I have had problems cutting small shapes in tiles before, when I needed to fit them around a pipe in the wall. After marking the tiles to be cut, I set the Multitool to its highest speed and carefully started to follow the line. The metal cutting blade bit into the tile so well that I had very quickly cut a perfect curve into the edge of the tile, exactly along my mark. If only I had had this tool when I was tiling my bathroom, I could have saved quite a bit of time and several tiles into the bargain.
What We Think
Whilst the Einhell Multitool is not a unique product, it certainly lives up to its name. The huge selection of good quality attachments certainly handled everything we threw at them, and it is easy to see that this tool could do a lot more things than we can probably think of. This is perfect for detailed diy work or for those of you who do a lot of model making and craft work as the 5 different speed settings allow a great deal of control. It is also great for keeping your tools in good shape. The longer we have this tool, the more things we are finding it perfect for. We were also impressed with the extendable hanging hook, which means you can keep the multitool safely out of the way above your workbench when not in use.