The Bosch IXO 4 Cordless Lithium-Ion Screwdriver
 is more than just a pretty face–this small and handy tool can take on a wide range of everyday screwdriving tasks around the home. Anybody who is moving house, refurbishing, or who simply needs to retighten a few screws won't want to do without this powerful partner. With the help of the Right-Angle and Easy-Reach Adapters, this IXO 4 package can help you accomplish all kinds of screwdriving applications, in all materials, with all types of screws, and in hard-to-reach areas.
Thanks to lithium-ion technology the IXO is extremely small, and lightweight at only 300 grams. Also, lithium-ion technology ensures that there is no battery self-discharge, which means that the IXO is always ready for use. The battery has no memory effect as well, which means it can be recharged at any time without losing capacity over its lifetime.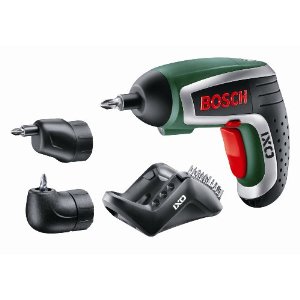 The IXO is packed with other indispensable features. The work light on the top of the IXO is handy for working in dark areas. The forward/reverse indicator and charge level indicator make the tool easy to operate. And, the ergonomically shaped handle, with its large softgrip surface, provides a better and more comfortable hold. The magnetic bit holder keeps the bits firmly in place and allows extremely fast bit changes.
This IXO 4 package comes with two adapters which transform the IXO into a special screwdriving system for use in areas that a regular screwdriver couldn't go. The adapters are easy to attach and make the IXO even more versatile.
– The Right-Angle Adapter sets the screwdriver head at up to eight different angles, letting you drive screws even around corners.
– Get close to edges and reach even the tightest corner with the Easy-Reach Adapter.
The IXO 4 features a suspension hook integrated into the ergonomic handle, which can be attached to a band or cord, so it's always ready to hand, and easy to carry from one DIY project to another.
The Bosch IXO 4 Cordless Lithium-Ion Screwdriver
 comes complete in a high quality tin box with embossed design elements, making it a great-looking gift. The inside of the box is fitted with a smart inlay for easy storage of the IXO, charger and accessories. Alternatively, the tool can be stored outside the tin on its practical charging station, ready to use when you need it.