Breaking up a concrete slab, such as an old concrete patio or driveway, is not a task you should enter into lightly. It can be a LOT of backbreaking and dirty work, and can produce a huge amount of material that will need to be disposed of. But with a bit of forward planning, and the right tools, it can be done by almost anyone will to put in the hard work.
Before Breaking Up a Concrete Slab
Before you begin smashing up the concrete slab, you need to think about what tools you need, safety precautions you need to take, and what you will do with the rubble and debris you will create.
Concrete Breaking Tools
Breaking up a concrete slab, even a small one, will be incredibly hard work without a Concrete Breaker, also known as a Jackhammer or demolition hammer. You can high heavy-duty Breakers from most tool hire shops (such as HSS) on a daily or weekly basis. This will normally include a couple of different points and chisels for tackling different areas of the concrete. When hiring a demolition hammer, make sure you check if a power transformer is required, and if it is included in the hire price. If not, you will need to pay extra to hire one.
You will also need basic safety gear, including heavy-duty gloves, eye protection, dust mask and ear protectors. If you want to be really safe, also consider a hard hat. All of these can also normally be hired fairly cheaply if you don't already have them.
Tools such as a large shovel, a long metal pry-bar, and a sledgehammer/club hammer may also come in handy when breaking up a concrete slab.
Removal of Concrete Rubble
If the concrete slab you are planning to break up is small and not very deep, you might be able to remove the rubble and debris in rubble sacks, carried to the local tip in your car or van. Something like a concrete driveway may require you to hire a small skip to get rid of the rubble. Speak to a local skip hire company to get advice on the size you might need, and what precautions you might need to take (asking for permission to have the skip on the road, etc.)
If the concrete slab is far away from where the skip will be sited, you should also think about hiring or buying a wheelbarrow, and getting some scaffold planks to create a ramp.
Preparing the Area
Completely clear the area before you start, and make sure that there are no services (drains, electricity cables, gas pipes, etc.,) underneath the slab. If there are, use spray paint to mark where they are (if you know), so you can take care when working near them. If you think there is a gas pipe or electricity cable under the slab, you may want to seek professional advice before continuing.
Using a concrete breaker is noisy and dusty work, and although it is not essential, you might also want to notify your neighbours of when you will be working, and make sure you don't work in the early morning or late at night.
Breaking Up the Slab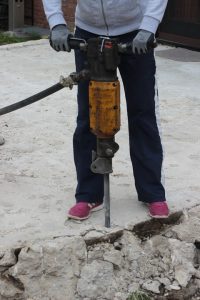 A firm footing is very important when using a concrete breaker, especially if you are unused to working with one. It is best to start breaking the slab from the edge furthest away from the skip or area you will be storing the rubble, so you have a clear, solid path to move it as you work.
You should aim to break the slab up into small, manageable pieces, which can then be lifted out and removed. Don't try to smash it up into small chunks (unless you plan to use the rubble for hardcore on a building project).
Start at the edge and work your way across the concrete slab. To break off your first piece, place the tip of the demolition hammer against the concrete surface, holding it firmly and upright, and then switch it on. These tools will hammer the point or chisel end into the concrete at a rate of hundreds of times a minute, hopefully making short work of breaking through the slab.
You should let the breaker do the work, and resist the temptation to push down on it as it works. The tip shouldn't get stuck, but if it does, let the machine stop, and then rock it backwards and forwards until you can pull it out of the hole/crack. Move slightly away from the problem hole/crack, and start again. It is a good idea to break up the concrete slab in a rough grid pattern, and remember to make the pieces small enough to easily remove and discard.
If there are any obvious weaknesses or cracks in the concrete, don't be afraid to use these for some easy progress. A long pry-bar can be very useful for breaking of pieces of concrete after the breaker has created a hole.
Removing the Concrete Rubble
As you break up the concrete slab, periodically clear out the rubble, either by hand or shovelling it into a wheelbarrow and then discarding when it's full. If you have a skip, have a plank ramp (old scaffold planks are perfect) set up so you can just wheel the barrow from the demolition site and up into the skip in an easy motion. Be careful when walking up the plank with a full barrow, it is easy to lose balance! Some skips are fitted with a drop door in the end, creating a solid ramp and giving easy access.
If the unbroken part of the slab is getting covered in small bits of debris, give it a sweep with a broom every so often to ensure a stable footing.