Insulated plasterboard is a commonly used building material. Insulated plasterboard is comprised of a sheet of standard plaster board with insulation on the back. The board and the insulating material are sandwiched together into a single sheet. It is available in a variety of sizes and thicknesses, with a choice of finish and material used for the insulation.
Insulated plasterboard is mainly used on internal walls to enhance thermal performance without adding too much depth to the wall. It can be fixed with plasterboard nails, screws, or even adhesive, making it an easier option for some DIY tasks. After the wall is finished, standard plasterboard fixings can usually be used without problem, although some toggle fixings may prove difficult to use.
Types of Insulated Plasterboard
There are several different types of insulated plasterboard available, which vary in price depending on the thickness and materials used in its construction.
Basic Insulated Plasterboard – e.g. Gyproc ThermaLine Basic
This type of plaster board with insulation is normally made up of a 9.5mm gypsum board, backed with a sheet of expanded polystyrene. The thickness of the insulating sheet can vary between 12mm and 30mm, depending on the insulation level needed. Can be used to line the walls of internal rooms.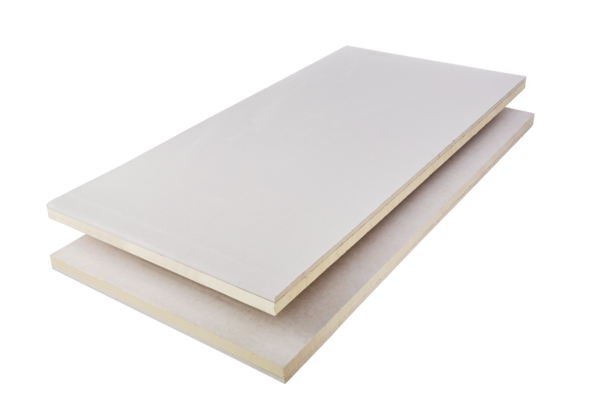 Vapour-Control Insulated Plasterboard – e.g. Gyproc ThermaLine PIR
This type of plasterboard is normally comprised of a slightly thicker gypsum board (around 13mm), backed with high-performance polyisocyanurate foam. In addition, vapour-control plasterboard will contain one or two layers of vapour control material. This is useful for lining attic rooms and window reveals.
Moisture Resistant Insulated Plasterboard – e.g. Gyproc ThermaLine PIR MR
Higher-performance insulated plasterboard, which is made up of 12-13mm gypsum board, backed with rigid polyisocyanurate foam and two vapour barriers. Designed for use in wall lining and partitions where both thermal performance and high moisture resistance are required.
High-performance Insulated Plasterboard – e.g. Gyproc ThermaLine Super
High-performance insulated plasterboard is normally a sheet of 9-13mm gypsum board, backed with high-density phenolic foam. It will normally also include at least one vapour-control layer. Designed to be used in both refurbishment and new builds for walls, and ceilings where a higher level of thermal insulation is required.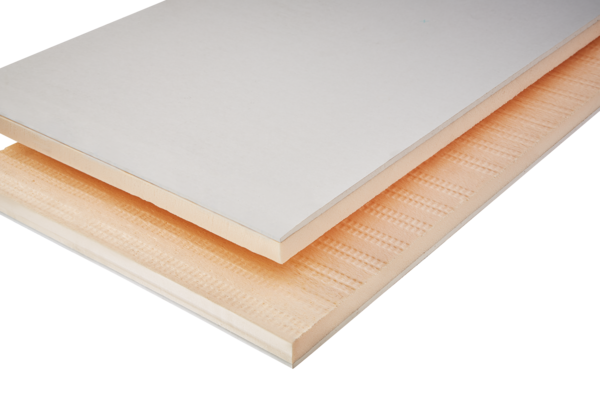 When to Use Insulated Plasterboard
Insulated plasterboard is used to line internal walls, normally brick walls, when both insulation and dry-lining are needed. It is normally quicker to install than the traditional dry-lining/insulation method It is also a cheaper solution than using foil-backed plasterboard and a layer of traditional insulation material. It also has the advantage of offering a thermal layer with a thinner profile, resulting in less room being lost overall.
Cutting Plasterboard with Insulation
The layer of insulation on the back of the plasterboard can make cutting the sheets to size a bit more awkward than with normal plasterboard.
The best way to cut insulated plasterboard is to use a very sharp knife to cut through the insulation material, all the way through to, and including, the paper backing on the plasterboard.
Then lay the board face-down on a sharp, straight-edged surface (the edge of a table, for example) with the line where you need to cut lined up with the edge. Push down on the overhang to snap the gypsum layer of the plasterboard. You can then cut through the final surface layer of paper.