Cleaning and maintaining the roof of your conservatory or sun room is one of those once or twice-a-year jobs which is as important as it is frustrating. Failing to clean and maintain the glass or polycarbonate roof of your conservatory is just storing up problems for the future, as moss, dirt and debris can attack the seals and lead to leaks or loosened panels.
Here are some rules you should follow when cleaning your conservatory roof, along with some tips to make the job easier.
Cleaning Glass Roofs
The first thing to think about is how you are going to access the glass roof. You can buy extending brush attachments for your hose pipe, the longer of which will allow you to clean the roof from the ground. These are ideal as they let you wash and rinse at the same time. You can hire this sort of attachment from tool hire shops if you don't want to pay out for this infrequent task.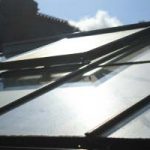 The other option is to use a ladder to reach roof height, and then clean the roof using a soft broom or a shorter (and cheaper) extending brush attachment. Unless your conservatory roof is very small, it is unlikely that you will be able to reach the whole roof in one go using this method.
Even self-cleaning glass may need to be manually cleaned from time to time. Self-cleaning glass relies on the action of the sun to break up dirt and stop it clinging to the surface (photo-catalytic action), along with rain to wash the dirt away (hydrophilic action). In hot summer months, when there might be little rain, this accumulation of loose dirt may not be washed away.
To clean both standard and self-cleaning glass roofs, use warm soapy water to shift the dirt, making sure you clean along the seals or joints. When cleaned, rinse the whole roof with clean water. If you have self-cleaning glass, you can first try simply directing the water from the hose pipe up onto the roof to wash away any accumulated, but loose, grime.
Cleaning Polycarbonate Roofs
Cleaning polycarbonate roofing sheets requires a bit more caution than when cleaning glass roofs. Many common household cleaning products will contain chemicals which can damage the coatings which protect polycarbonate sheets from UV damage. Ideally, always check with the roofing manufacturer to see what they recommend you use.
In most cases, manufacturers of polycarbonate roof sheets will tell you that they should not be scrubbed with stiff brushes, to avoid using any abrasives, and avoid using cleaning products which contain petroleum or have an alkaline composition. It is not, however, always easy to tell which products this advice refers to.
Our advice is to always use a mild mix of soap powder and warm water. Spray this mixture onto the roof and allow it to work its way into the dirt. Rinse the roof with clean water and then repeat the process. Any stubborn grime can be gently brushed away with a very soft bristled boom or hose attachment, a soft cloth or with a soft sponge.
Avoid washing the polycarbonate roof on very warm days, and dry it as much as possible after cleaning and rinsing.
Cleaning Roofs – Ladder Safety
If you are working in front of a door, it is a good idea to lock the door to prevent someone opening it and knocking you off.
Observe the three-point contact rule when climbing ladders. This means you should always have two hands and a foot, or two feet and one hand, etc, on the ladder as you climb.
Always try to keep the foot of the ladder on a firm, flat surface. If this is not possible, placing a strong board under the feet or tying the bottom rung to a stake driven into the ground can help.
If the rubber feet at the bottom of the ladder are missing or damaged, replace them or use a different ladder.
Do not lean out to the side when working on a ladder. Keep your centre of gravity between the stiles (the uprights). If you need to stretch, move the ladder!
Don't work off the top three rungs, and try to make sure the ladder extends at least 1 m (three rungs) above where you are working.