If the tiling around your toilet is old, cracked or the wrong colour for your new bathroom, it's quick and simple to chip off the old tiles, make good and tile the new ones around and behind your existing sanitary fittings. Take your Dremel DSM20 Compact Saw using the tile cutting disc and cut your new tiles to the correct size. Just follow our step-by-step guide below. You can even cut porcelain floor tiles for a complete makeover!
Materials required:
– Dremel DSM20 Compact Saw with the DSM Edge Guide and DSM540 Diamond Tile Wheel
– Chisel and hammer
– Tile adhesive
– Tile spacers
– New tiles
– Grout and grouting pad
– Tape measure and pencil
– Sandpaper
Step 1 – Chip off your old tiles using a chisel and hammer and make good, sanding so that the surface is smooth – or, if necessary, get the wall skimmed, as you need a perfectly even surface on which to tile.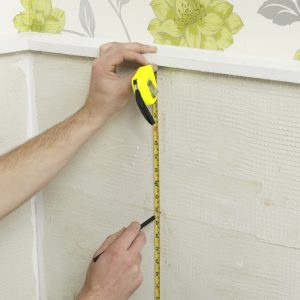 Step 2 – Measure your wall dimensions and your tiles to create a plan for your tiling. Then find the centre of the wall and decide your tiling plan working from the centre towards the outside edges/corners to give yourself even tile cuts at either end.
Step 3 – In order to start to tile using your plan, ensure that you remove your toilet flush plate so that you can tile up to the service hole. Apply adhesive evenly all over the wall. Then, accurately apply the whole new tiles using tile spacers to ensure they are all equally spaced apart from each other.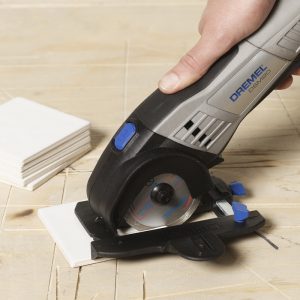 Step 4 – Cut the remaining tiles for the wall edges, corners, around the service hole and the back of the toilet using your Dremel DSM20 compact saw and the DSM Edge Guide and DSM540 Diamond Tile Wheel.
Step 5 – Apply the cut tiles to the wall, following your design.
Step 6 – Finish off by grouting and when that's dry, screw in a toilet roll holder – or even better, apply one with a suction pad so there's no need to drill – and you're done!