Painting tiles is a cost-effective way of renovating a bathroom or kitchen that is starting to look tired. Tile paint technology has come on in leaps and bounds in the last few years. Giving your tiles a long-lasting and attractive makeover has never been easier.
Our in-depth, step-by-step guide will help you make the most of your tiled surfaces. From advice on the best tile paint to the best tile painting methods and expert hints and tips, you'll find everything you need to know here.
Everything You Need to Paint Tiles
When painting tiles, the paint you choose will vary depending on the finish you want. But there are tools and other equipment you will need, no matter which paints you choose.
Tile Paint. Good-quality tile paint in your choice of colours.
Tile Primer. Using a primer is a good idea if you are painting a light colour over dark tiles.
Good quality paintbrushes. Make sure you have a range of sizes, starting as small as 1cm.
Small Foam Roller. You can paint tiles with a brush, but you will probably achieve a better finish with a foam roller.
Sugar Soap. Sugar soap is perfect for cleaning surfaces before painting, as it removes both dirt and grease.
Fine-grit Sandpaper. Used for "keying" the surface of the tiles to allow the paint to adhere better.
Masking Tape. For keeping the edges neat and protecting adjacent surfaces.
Which Tiles are Suitable to be Painted?
Almost any ceramic tiles are suitable to be painted if cleaned and prepared correctly. You can even paint floor tiles if constructed from a non-porous material.
Moulded tiles with raised patterns will be harder to paint. But even these can be painted if you want to. Tiles in damp areas, such as shower stalls, aren't ideal for painting. But, again, if prepared correctly, painted well, and perhaps sealed with a clear lacquer, painting is an option.
Choosing Your Tile Paint
Tile paints have improved considerably over the last few years, as this decorating method has become more popular. You will find tile paint in different finishes, including gloss, high gloss, and satin.
Tile paint is relatively expensive, but you often only need a small amount. Look for paint that is described as washable or moisture resistant. It is also a good idea to pick mold-resistant tile paint when covering tiles in a bathroom. Three of our favourite tile paints are:
Ronseal One-coat Tile Paint – Satin
Johnstone's Tile Paint – Gloss
Dulux Shower-resistant Tile Paint – Gloss
Cleaning and Preparing Tiles Before Painting
Use sugar soap and an abrasive sponge to clean the tiles thoroughly. Don't forget to clean the grout as well. Ensure you clean right up to the edges, and pay special attention to areas that get splashed with grease. This includes areas around a hob and bathroom areas where soap residue could have built up.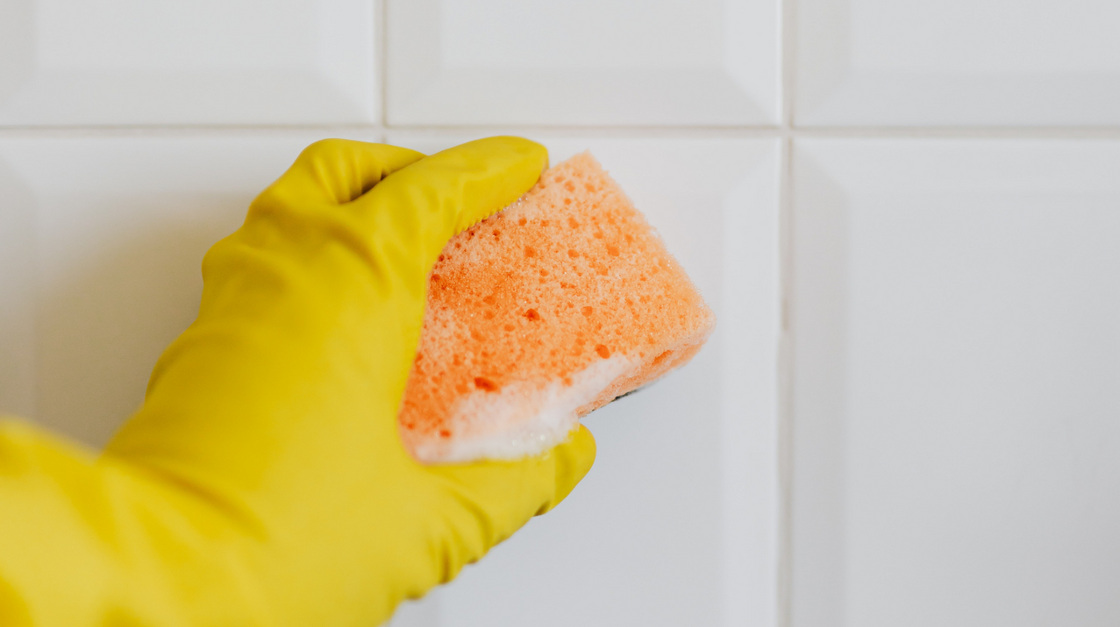 Check carefully for any cracks or chips in the tiles. You can repair chips and cracks with epoxy filler like Gorilla Epoxy. Allow tile repairs to dry and sand the epoxy flat and smooth.
Sanding Tiles Before Painting
Sanding the surface of ceramic tiles (also called keying the surface) helps the paint to stick better. If the tiles you are painting are glossy, sanding the surface with fine-grit sandpaper is an essential step.
Some tile paint says you do not need to do this, but we recommend sanding no matter which paint you use. Even older tiles or tiles with a textured surface should be sanded before tile paint is applied.
Ensure you sand right up to the edges of the tiles. Sand in a circular motion, using long strokes of your arm. After sanding, wipe off excess dust with a damp cloth and let the tiles dry. You can stand close to the tiled surface and look along it to see the shine of unsanded areas.
Do Tiles Need to be Primed?
You don't always need to paint tiles with a primer coat, but it will help coverage. This is especially true if painting over dark-coloured tiles with light-coloured paint.
Ronseal All-surface Primer is a good choice, as is Zinsser Bulls Eye 1-2-3 Primer Sealer, but any all-surface primer can be used.
Apply the primer to the grout joints using a small brush to ensure they are completely covered. Paint the actual tiles with a foam roller. Allow the primer to dry according to the manufacturer's instructions, then sand it lightly to key the surface.
Grout – Paint It or Replace It?
If you are using white tile paint, you can just paint over the grout (assuming it is also white). If you are painting the tiles another colour and want to keep the grout white, you have a couple of options.
You can scrape out the grout before painting the tiles, and then regrout afterward. This is the best option for a tidy end result but involves a lot more work.
You can paint the grout, and then rake it out when the paint is completely dry, and then regrout. This method can work out well, but it is hard to rake out the grout without some paint peeling away from the tiles.
The final option is to try to paint only the tiles, avoiding getting paint on the grout. This is also quite hard to do well but can be done with a small foam roller or small paintbrush. It should be fairly easy to clean any paint that does get on the grout in a few places.
Painting the Tiles
Apply masking tape to the walls adjoining the tiled area, and lay down newspaper or plastic to protect floors or worktops. Give the tiles a final wipe down to remove any dust before you paint.
It can be difficult to avoid leaving brush marks and paint runs when using a paintbrush to paint tiles. Because of this, we recommend using a small foam roller. These are often around 10cm long, and can be perfect for painting tiles without getting too much paint on the grout. You can buy even smaller rollers that are half that length for even more painting accuracy.
When painting tiles, it is best to apply several thin coats to help avoid runs, drips, and brush/roller marks. Apply as many thin coats of paint as is needed to cover the tiles completely and evenly. Waiting the recommended time between coats of course.
Painting Tiles With Stencils
Tile stencils are a great way to add character to a boring wall of tiles. There are stencils available in an incredible range of patterns and designs. You can even make your own if you are handy with a craft knife.
Paint stencils are usually made of plastic so that they stand up to being covered in paint repeatedly. The tile can be lined up on the tile and held in place by hand, or with a few strips of masking tape along the edges (the better option).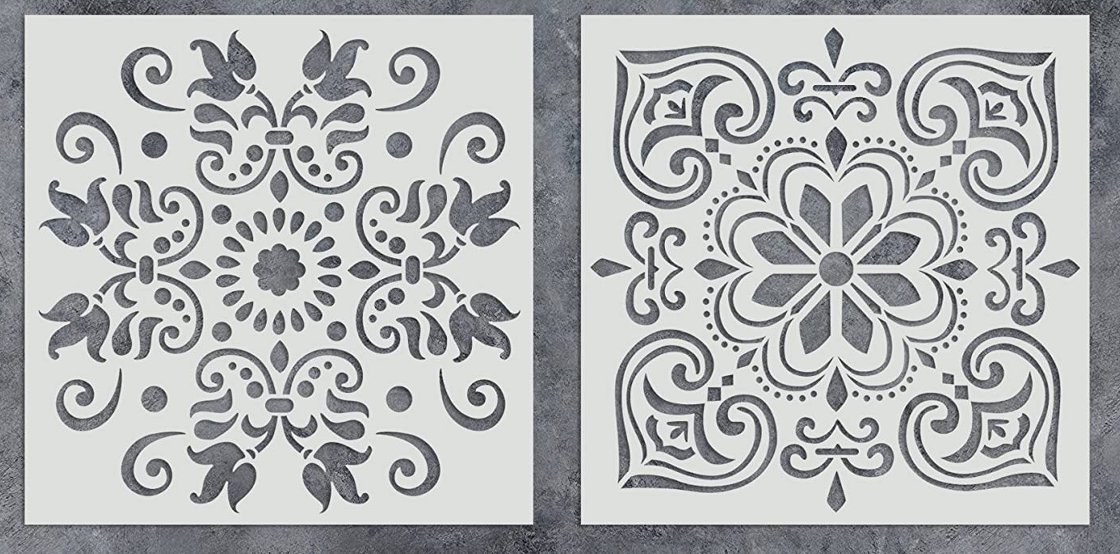 Expert Tips for Painting Tiles