Learning how to clean a deck properly will not only keep it looking good, but will also help to prolong the life of the timber. Deck cleaning can be a quick and easy process, as long as you do it fairly regularly. Ideally, decking should be cleaned once in the spring in preparation for use in the summer, and then again in autumn to prepare and protect it during the winter months.
Preparing the Deck for Cleaning
It is far easier to completely clear the deck area before you start cleaning, rather than trying to work around pot plants or furniture. Move everything off the deck and move any plants from around the outside of the decked area. If there are any delicate plants situated around the deck, it is worth covering them before you start to avoid drenching them in cleaning solution.
Think about the tools and equipment you might need and get everything ready. You will probably need a stiff-bristle broom, hose pipe (with spray attachment) or a pressure washer, a bucket and whichever cleaning solution you have chosen to use.
Cleaning the Deck
Step 1 – Brush the whole surface of the deck with the stiff-bristled broom to remove any loose dirt and debris. If your deck boards are ridged, make sure you brush in the direction of the grooves. Use a thin metal rod or weed hook/scraper to clean out the gaps between the decking boards.
Step 2 – Mix up your chosen deck cleaning solution following the manufacturers instructions. These will differ between products and getting the ratio right between water and solution is important. Depending on what you are using, the deck may need to be wet before you apply it. If so, hose down the deck and brush off excess water.
Step 3 – Apply the solution using the recommended method. This will either be by spraying, mixing with water and applying with a watering can or mixing in a pressure washer. You will normally be required to leave the cleaning solution to stand for a while.
Step 4 – Before washing the cleaning solution off, use the broom to brush it into all of the grooves of the boards and to make sure that it is well worked into the timber. Do not leave the cleaning solution on the timber longer than recommended.
Step 5 – Rinse the solution off of the deck using a hose or pressure washer. If using a pressure washer, do not use it on the high power setting or you may damage the wood. Brush the deck with the broom a second time and then rinse again.
Step 6 – If you plan to paint the deck with a new coat of preservative, you should wait until the timber is completely dry. This may take two or three days even in dry weather.
Deck Cleaning Products
There are lots of different deck cleaning products available, from chemical cleaners to environmentally-friendly soap solutions. Some are designed to be brushed on or applied with a watering can and then hosed off, whilst other are designed to be added to a pressure washer. Most need to be left on the timber for a while so that the ingredients can do their work.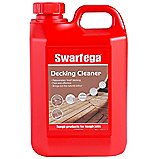 Swarfega Decking Cleaner – £5.98
Helps revive the natural colour of wooden decking areas
Concentrated formulation
Excellent degreasing power with hot or cold water
Can be used through a pressure washer
Can be used manually or through a pressure washer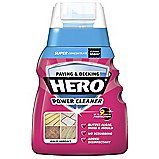 Hero Paving and Decking Power Cleaner – £9.98
Blitzes Algae, Moss and Mould
Up to 9 months lasting protection from re-growth
No scrubbing – simply mix, apply and leave to dry
Super concentrated – just 1ltr cleans 100m2
Using Bleach – Household bleach will clean your decking, but it may also damage the natural compounds, resins and oils in the wood that hold the fibres together. If you want to try cleaning a deck with bleach, make sure it is Oxygen Bleach.
Resealing the Deck
It is always a good idea to reseal the deck after you deep clean it. The cleaning solution will have stripped away some or all of the previous sealant coat. If your budget allows, buy sealer that is waterproof and contains mold and mildew protection. This will mean that it stays cleaner and in better condition for longer.
Sweep the deck to remove any dirt that has accumulated since you cleaned it and then apply the sealer as per manufacturers instructions. Let the sealant coat dry properly before moving furniture or pot plants back onto the deck.
Natural Deck Cleaning Products
If you don't want to use a chemical cleaning solution to clean your deck, there are a few other options available to you.
Water
If the decking is in fairly good condition, a good spray with water using a hose with a jet attachment or a pressure washer can shift ordinary dirt and debris. This method might require a bit more elbow grease with the broom, but no chemicals means happy plants and wildlife.
White Vinegar
White Vinegar is a great cleaner and degreaser, and can help to neutralise odours and kill mildew and mold. Mix it up in equal parts to water and use it to scrub the decking boards. White vinegar doesn't smell in the same way that normal vinegar does, so you won't even need to rinse it off the deck afterwards if you don't want to.
Baking Soda
Another natural deodoriser, baking soda can be used to clean a variety of different surfaces, including wood. Mix it up at one part baking soda to ten parts water, mix it until it has dissolved and then brush it onto the deck. Use a stiff broom to work it into the grooves well. When finished, rinse off the residue with clean water.