There are several options available to you when thinking about finishing exposed wood both inside and outside your home. This guide will hopefully help you choose the right finish for the job at hand.
Oil-Based Paint
Oil or Solvent based paints are probably the most popular finish for interior wood. Oil-based paint is hard-wearing and can easily be wiped down if it gets dirty. This means that with a careful first application, you shouldn't need to repaint for several years. The range of colours available is simply huge and it available in a variety of finishes, including gloss and satin. A good undercoat or primer is essential if you want your painted wood to stay looking good.
Gloss Emulsion
Gloss emulsion combines the easy of application of emulsion, with the durability and finish of a traditional oil-based gloss paint. It is easy to apply and dries much faster than a true gloss paint. Gloss emulsion can be used both inside and outside, and unlike oil-based paint, will allow moisture to escape, whilst protecting from rainwater. You will need to apply a compatible gloss emulsion primer (two coats if possible) for the best results.
Varnish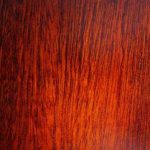 If you want to protect the wood inside and outside your home, but do not want to cover it with paint, varnish could be the answer. Most varnish is based on polyurethane resin as this dries to a very hard finish and should be scratch and heat resistant. Normal varnish is generally ready to apply, but some varnishes (e.g. floor varnish) can need a catalyst added before use. Varnish is available in gloss, satin or matt finishes. If planning to varnish exterior wood, go for an exterior-grade varnish which is formulated specifically to resist the action of the weather.
You can also buy coloured varnish, should you wish to retain the look of the wood, but add a stain to the surface. As varnish does not sink into the wood, heavy wear can cause some loss of colour in places. You can help to prevent this by applying clear varnish over the top of the coloured varnish.
Wood Stain
Wood stain differs from paint and varnish in that it penetrates into the surface of the wood rather than coating the surface. Because of this, most general purpose wood stains do not offer any protection from moisture and a sealing layer of clear varnish or wax polish is a good idea. You can buy protective woodstain for exterior joinery (often called microporous paint) which will allow the wood to "breathe" whilst giving it a weather-resistant coating.
Wood Preservers
Wood preservers such as creosote are specifically designed for exterior use on things like decking and timber fencing. The preserver penetrates deep into the surface of the wood and protects against rot and insects. Traditional creosote is still very popular, but there are also many other types of preserver available, including less smelly organic solvent preservers. These are particularly good for wooden framed greenhouses or timber planters. Preservers are available in a wide variety of colours, from clear to reds and greens.
Wax Polish
Suitable for indoor use only, wax polish can be used to protect another finish (woodstain for example) or actually as a finish. Wax polish is usually a blend of beeswax and another hard polishing wax such as carnauba, and is available in both white and coloured varieties. Wax polish can really improve the look of good quality timber, but does not offer lasting protection and should be reapplied regularly.
French Polish
Used most often on pieces of furniture rather than structural timber, french polish can give a fantastic mirror-like finish if applied carefully. It contains shellac which means that once dry, it creates a hard, glassy finish. Unfortunately, this also means that it marks and scratches very easily. There are several types of french polish available, but for normal use Button Polish is the only one you need to look for. Button polish is available in both dark and light shades, depending on the colour of the wood you plan to polish.
Wood Oil
Oils such as linseed oil soak into the wood and also create a light sheen on the surface. Linseed oil can take several hours to dry, but modern oils dry very quickly and will provide a more durable finish. Suitable for use on both hardwood and softwood, oil also has the added benefit of preserving the natural moisture in the timber, making it less likely to warp or split.
Lacquer
Lacquer, or cold cure lacquer, is a plastic-based finish suitable for areas of wood that need to be very hard wearing such as floors. The lacquer usually needs to be mixed with a hardener just before it is used, and it is this hardener which gives lacquer its durability. It is available in both gloss and matt finishes, as well as a variety of colours.